Video Workshop: Moving Paradiddles – Moving Feet. Can You Play It?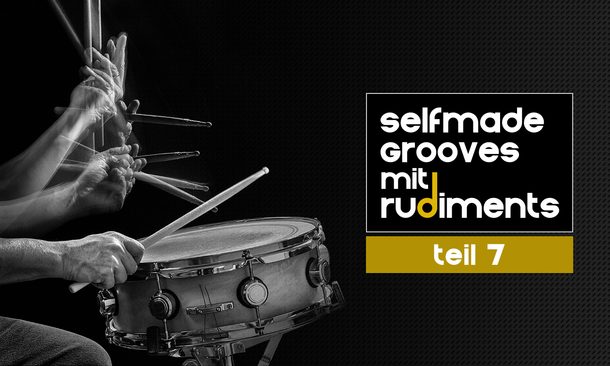 I like to practise my drums. Always have. It feels great, to tackle a technical or cognitive skill that couldn't be achieved at the time, but after some focused and disciplined work on the instrument, is really owned.
To make practising not only fun, but also noticeably effective, I prefer using and coming up with conceptional workouts and excercises, that can offer a wider range of improvement in the long run, as opposed to simply appoach the obvious deficit.
In this new video workshop series, exclusively for bonedo drums,  I would like to present you some of my personal conceptional approaches, that have helped not only me with my own development on the drums, but have proven to be extremly useful to legions of ambitious students that I have had the privilige to teach over the years in various institutions and situations.
We all are aware of the importance of control, interdependence and balance on the kit; and the ability to percieve rhythmical structures from different perspectives. Though, from time to time we find ourselves confronted with the weak spots in our playing – and if so, it can make us feel frustrated. Even if our fellow musos don't twig the stress we are going through with a certain groove, fill or other musical challenge, we know for ourselves  – because we have learned to hide the deficit and fight ourselves through the moment.
The here presented workout, which I call "Moving Paradiddles – Moving Feet", is just one of many ways to train and improve the mentioned skills on the drums. The written workshop with the musical notation on bonedo is in german language only, but here you can find the english video version.
As with all practice, you can look at this concept as just some dull excercise – or you can understand it as a musical routine, a little piece of music, that you create while practising and which you can play with touch, sound, creative orchestration and instrumental joy. It's up to you.
I recommend to place your focus on precision over speed, and constantly monitor yourself. Continuously check, how souvereign and comfortable you feel in terms of body balance, control and perception of where you are in the bar. And count out loud.
Play the excercise at  a very low volume as well as with fierce energy, just like you would play any music. And practise with a click – and definitly without!
The question is: Can you play it – and can you play it relaxed?
After a while, you will – and it can turn out be tremendously helpful with your playing
After you mastered it, go ahead and modify the excersise, change it up and make it your own. There are no limits to your creativity.
I hope you will enjoy this workout.