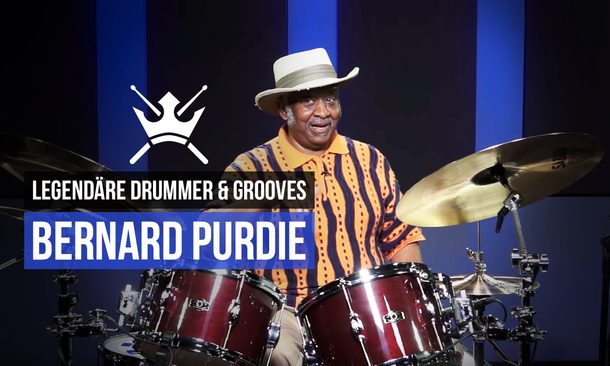 Welcome to "Legendary Drummers – Legendary Grooves, edition #7!
Today's protagonist is a truly legendary player, but also a highly controversial personality: Mr. Bernard "Pretty" Purdie.
There is no doubt, that his drumming has left a strong mark in the history of popular music, especially in Soul and Funk, but the creator of the "Purdie Shuffle" has also drawn a lot of negative attention over the years by his egocentric behaviour, exaggerated story telling and most of all by his clearly unproven claims about having recorded for the Beatles.
Nevertheless, Purdie is correctly considered one of the greats of all time, and his many influential recordings speak a clear musical language. In this bonedo exclusive workshop we are taking a close look at his drumming on Aretha Franklins iconic Track "Rock Steady" (1971), which features an irresistible Funk-Groove, that couldn't be more typical for "Pretty's" infectious playing, consisting of rolling ghosted snare drum notes and subtle hihat-openings, as well as a break beat section with a groove that turned out to be one of the most sampled grooves of all times.
As usual with this workshop series, you will find transcriptions, detailed groove-analyzes and re-recordings of the beats by your's truly !
Have fun studying and playing the Funk of the legendary Mr. Bernard Purdie!