Groove Workshop: Die Magie des Manu Katché – "Somewhere Down The Crazy River"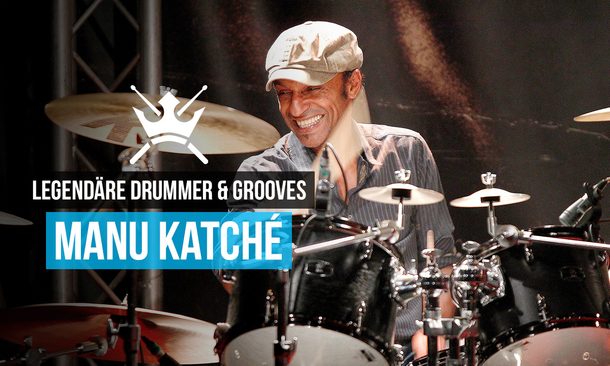 Auch in der dritten Folge meiner kleinen Groove-Workshop-Reihe "Legendäre Drummer – legendäre Grooves" – exklusiv für bonedo drums – widmen wir uns einem Helden der 80er und 90er Jahre: Manu Katché,  französischer Top-Drummer mit westafrikanischen Wurzeln. Manu hat der Welt im Laufe der Jahre so einige legendäre Grooves kredenzt, sei es im Rahmen seiner Zusammenarbeit mit  Peter Gabriel, Sting, Dire Straits oder eben Robbie Robertson, aus dessen Feder der 1987er Song "Somewhere Down The Crazy River" stammt. Für den atmosphärischen Track gestaltete Katché einen Groove, der die Komposition durch seine dichte, geheimnisvolle Stimmung entscheidend prägt.
Die kreative Kombination aus Tom-Akzenten, Snare-off-Backbeats und kreativer Ride-Bell-Arbeit zieht einen jeden Groove-Liebhaber sofort in seinen Bann – so auch mich, als ich das Album vor vielen Jahren erstmals zu hören bekam.
Im aktuellen bonedo-Workshop findet Ihr wie immer Transkriptionen, Vereinfachungen und Re-Recordings, die den Groove transparent erklären und helfen, zu verstehen, wie Manu diesen legendären Beat aufgebaut hat.
Viel Spass beim Auschecken dieses Drumming-Meisterwerks!